Om een betrouwbare buck-boost voeding te maken die onder alle omstandigheden ene betrouwbare en stabiele spanningsregeling mogelijk maakt is de DV80 voeding ontwikkeld :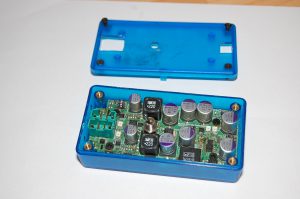 Deze gebalanceerde buck-boost modelbouwvoeding DV80 onderscheidt zich met de volgende kenmerken:
(Engels, voorlopig)
Features
• 3-16 V DC Input Voltage:
– 2x  3-13 NiMH cells
– 2x 1-4S LiPo cells
• 5V or 6V DC output voltage, selectable by user
• 6.3A at 5.5V continuous throughput
• 12A at 6.0V performance for 500 ms period
• Dual buck path with independent connector for battery redundancy
• Multiplex High Current input connector
• Triple universal Graupner PPM style output connector for connection
to receivers or other on-board modules
• Electronic (i.e no load-carrying) toggle on-off switch
• Input voltage monitoring with auto shut-off:
– Battery above threshold indication with bright green LED.
– Selectable shut-off level of 3,6,9 or 12V.
– Auto shut-off indication with bright Red LED
• Output voltage monitoring with selectable warning indication threshold at 5.5, 5 or 4.5 V
• Attractive durable translucent casing
• Physical dimensions: 80x40x20 mm
• Weight : 51 g
een (voorlopige) datasheet is hier te vinden (English).